You Will Feel So Proud …
Welcome to Linda's Drapery & Interiors. We want to help you make the most of your home environment, from the floor to the ceiling. The décor of your home surrounds you every day, so why not feel a calming sense of peace when you come home?
What Problems Do We Solve? Have You Ever Said to Yourself …
I am stumped! I want some new colors and a fresh look in my home, but I do not know where to start. I am overwhelmed by the thousands of color chips in the paint store.
My windows are bare. The room looks good, but I need something beautiful on the windows to finish the look.
The curtains I bought from the big retail store look so average. They are not quite the right color and they do not really give my room the look or feel I had wanted.
I loved the color I chose from the paint chip, but it looks different on my walls. I do not really like the way it looks. I feel like I am stuck! Is there anything I can do now?
My closet is a disaster. There just does not seem to be enough space for everything and it looks like a jungle in there! Do you have any suggestions?
My pantry is overflowing. I have to dig to find what I need when I am cooking and that just takes the fun out of it. Can you help me get things organized in there?
We paid a lot for this house. I want to feel proud when friends come to visit, but I do not know how to make my house say, "Wow"!
We just built a new contemporary home. My old accessories just do not seem to fit. I'm not sure how to achieve the up-to-date look that I desire.
More Than Just Draperies …
Browse our website and discover the many ways we make homes beautiful and more livable and find decorating solutions that work for you.
Let's Talk …
Share your ideas and inspirations. If you have an idea on how to make a home more inviting, invigorating or inspiring, please go to the Contact Us page and drop us a note.
Meet the owner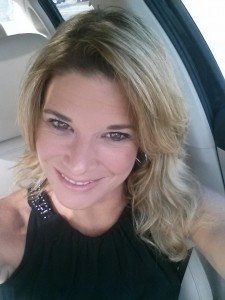 Wendi Holliday Horrell is a native of Corpus Christi and was the head window fashions designer at Linda's for 7 years. In 1997, Wendi graduated from Southwest Texas State University (now Texas State University) with a Bachelor of Science Degree in Interior Design. Wendi started working for Linda's in 2003 and became owner of the company in 2008.
Wendi would love to suggest ideas to coordinate your room and furnishings with your beautiful new window creations. Her goal is to provide every customer with a pleasant in-home appointment followed by an exciting session in the studio, where your custom design will be brought to life with beautiful fabrics, trim, and hardware selected just for you.
Deborah Strauss
Deborah Simpson Strauss has been with Linda's Drapery and Interiors for two years. Prior to returning to Corpus Christi in1988, Deborah received a Bachelor of Science in Home Economics – Interior Design from Southwest Texas State University, now Texas State University.
Deborah will enjoy creating a unique and personalized environment for clients. Whether in the market for a customized window treatment, reupholstering, or simply wanting to accessorize and repaint, Deborah will aspire to see clients' thoughts and dreams become reality.
When Deborah is not at Linda's Drapery and Interiors, she enjoys spending time with family and friends. She enjoys baking for others, as well as volunteering, gardening and working out.
Our experienced decorators can help you make the tough decisions regarding your home décor. We can lend a trained eye and fresh perspective to your project.
Our specialties include:
Creating color schemes
Buying and arranging new furniture
Revitalizing your home with your existing pieces
Selecting interior finishes during new construction
Seasonal holiday decorating
Home staging
And our talents don't stop at the door. We can help you create fabulous outdoor living spaces as well.
By the Hour Consultation …
Let our talented decorators help you make the tough decisions regarding your home décor. A trained eye will be of great help when you are choosing your color scheme, buying and arranging new furniture, and choosing interior finishes during new construction. Creating fabulous outdoor living spaces is another decorating service we provide as well as "seasonal" holiday decorating. We also offer home staging services, making your home look fabulous when you putting it on the market to sell.